NEW ZEALAND NATIVE BIRDS TO BE SEEN ALL YEAR ROUND IN OUR PARADISE
(Most active June to December)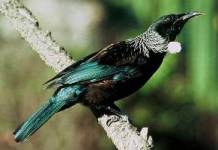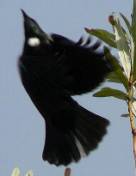 © Copyright Mount Tutu Eco-Sanctuary
TUI – (Prosthemadera novaeseelandiae)– (other less known name Parson Bird)
Perhaps NZ's best know songbird. The feathers may appear black or reflect metallic and iridescent greens, purples and blues. They have a tuft of white feathers on their throats.
Tuis are noisy fliers and occasionally perform acrobatic flight, darting about at high spped and plunging with closed wings. They seek nectar in native and exotic plants. They are known for their melodious song, however humans miss, much as it is pitched in a frequency beyond our hearing. We do hear a wide repertoire of chimes, musical rifts, wheezes and other noises "poured forth in profusion".
Description: sexes alike with female slightly smaller. Mainly iridescent green with dark bluish purple reflections appearing black from a distance. Back and sides of neck ornamented with white shafted filamentous feathers which curl forwards on sides of neck. Back and wing converts to brown with bronze reflections. White wing bar. White double throat tuft of curled feathers. Belly and sides reddish brown. Curved bill and feet blackish brown.
Female as smaller throat-tufts, and paler reddish brown abdomen.
Immature plumage slay black, except wing and tail quills which have metallic green outer webs; a crescentic mark or extensive patch of greyish white on the throat; dusky white wing-bar. White throat tuft from about 6 weeks. Lacks wing slots.
Movements are vigorous and flight is often noise especially when darting through the trees at a high speed; performs aerobatics, often plunging down with closed wings from some height.
Voice: Contains relatively pure frequency bell-like notes; harsher clonks, rattles, wheezes, chuckles and clicks, and quiet squeaks. Covers wide frequent range, with higher frequency notes inaudible to human ears. Both male and female sing, but male more vociferous. Mimics many noises, from human speech, whistles and pig spueals to other birds! Alarm calls extremely guttural and include beak clicking. Chicks and fledglings give high frequency begging calls.
The Tui is renowned for its variable songs.

It sings from high in trees, where it perches with its body feathers fluffed and its tongue partly extended.

It is the first bird to sing in the morning and the last to finish at night, beginning before dawn and not stopping until after dusk.

On moonlit nights, it may continue singing!