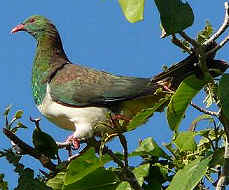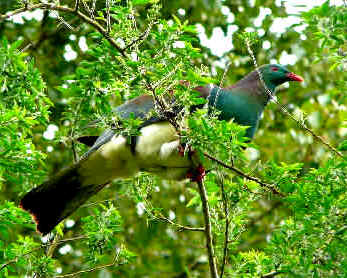 © Copyright Mount Tutu Eco-Sanctuary
KERERU – (Hemiphaga novaeseelandiae)
The kereru is the largest pigeon in New Zealand. The head, throat, upper breast and upperparts are a metallic green with purplish sheen. The upper breast is shaped like a babies bib and clearly stands out against the pristine white of the lower breast and underparts. The bill is crimson with an orange tip and both the eye and feet are crimson. The call is a soft penetrating 'kuu'. Kererū are about 51 centimetres long and 650 grams in weight.
Feeding
Kererū eat the fruit of native plants such as miro, tawa, pūriri, taraire, kahikatea, nīkau and coprosma, and introduced plants like privet, elderberry and plums. When fruit is scarce most birds also eat leaves, favouring kōwhai, tree lucerne, willow and poplar.
Now that other large birds like the moa are extinct, the kereru is the only bird left with a beak that can open wide enough to swallow the big seeds of trees such as puriri, miro, taraire, karaka, tawa and kohekohe.
They also eat the fruit of nikau, titoki, pigeonwood, supplejack, kahikatea and many shrub species and in spring the leaves and flowers of houhere and kowhai, feeding on a total of 72 native species.
Undigested seeds eaten by the kereru fall to the ground in its droppings, where they sprout and grow - often many kilometres from the parent tree. These birds can fly long distances (up to 25 kilometres). This spreads the seeds of native species far and wide, helping our native forests to regenerate.
Breeding is between September and February and is timed to coincide with certain fruits being available. The nest is a flimsy affair, often a precariously balanced platform of sticks on a horizontal fork. Often the egg or chick can be seen from the ground through the nest. Both adults incubate for about 30 days and the young kereru fledge at between 30 - 45 days old.
Māori hunted kererū, but since 1922 the birds have been protected.